We are not fighting for Biafra because of crude oil – Nnamdi Kanu
The leader of the proscribed Indigenous Peoples of Biafra (IPOB), Mazi Nnamdi Kanu has berated individuals who think Biafra is only limited to the Niger Delta States.
Kanu said that this group of persons has been agitating for Niger Delta to secede from Nigeria so that peace will reign in the country.
The IPOB leader stated that the fight to restore Biafra is not to gain from crude oil or any other mineral resources, but for unity, adding that the greatest resources in Igbo land have always been their intelligence and ingenuity.
Nnamdi Kanu claimed that the largest oil field in West Africa is located in Nsukka, even as he disclosed that if it was for mineral resources, the Igbos would have left as a homogenous group.
"There are those who out of ignorance…, constantly and divisively refers to a portion of Biafraland as oil-rich Niger Delta to be excised from the rest of Biafra for the benefit of One Nigeria," Kanu stated on Saturday.
"Some of these [persons]… often claim the yearning for Biafra has something to do with Igbos wanting their oil or 'Oyel' as they prefer to call it. What a shame! How daft and unknowledgeable these [persons] truly are.
"…every square inch of Igboland is full of oil, gas and highly sought after precious minerals including rare earth.
"Igboland is the only place on the planet where coal, oil, gas, and highly sought after minerals occur side by side.
"Name the state in the South East that hasn't got oil. Shell is in Egbema. Agip is in Ohaji. Shell is in Ugwuta and Ukwa. Orient oil is in Agulueri/Umueri. Addax Oil is in Awomama and Izombe. Ohaji has the largest in-use gas field in Africa piped to the coast and shipped to world markets.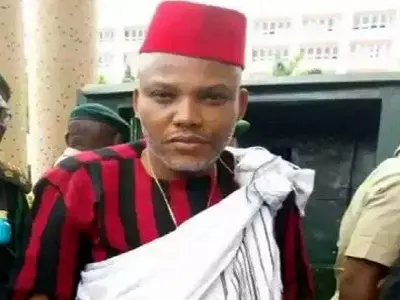 "…the largest oil field in West Africa is located in Nsukka, yes Nsukka.
"If oil and gas or mineral deposits are the main reason why we are agitating for Biafra, then it would have been more prudent to abandon everybody else and seek a homogeneous Igbo nation."