Niger Delta is not part of Biafra, see the reason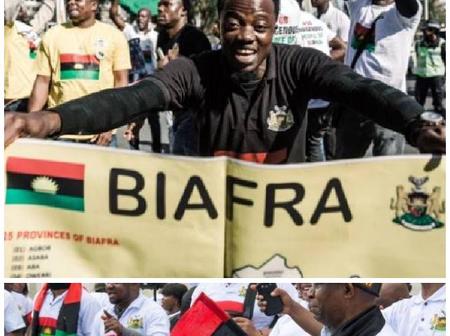 The truth many people don't know:
1. Niger-delta is no Biafra.
2. Biafra is just the 5 Igbo states.
3. Biafra will fail without the Niger-Delta joining them.
4. Cross rivers and akwa-ibom can be convinced to join Biafra to prevent Biafra from being landlocked but they will become minorities and regret it.
5. Anambra will lead the Biafra states in industrialization followed by Enugu with the last being ebonyi.
6. There will not be lasting unity among the Igbo's. They have historically being greedy and dis-united. Each family wanting to be independent that's why they have never being a prominent king covering all the Igbo lands.
7. This disunity and the progress of states like Anambra will cause strive and envy and a civil war will break out for claims to power.
8. A massive exodus will happen and they will begin to move back to "Nigeria". This will happen within eight years of the achieving annexing.
9. The " Nigeria" states eg delta, rivers, akwa ibom and cross river will be worse hit by the migration of the Igbo back to the mother nation.
10. The poverty rate and crime will be unheard of. Intellectual prowess that isn't from Anambra or Enugu will be stepped on.
11. Biafra will seek aid from the USA for at that time that they are having crisis, an Edo (sons of thunder) or Delta ( sons of anarchy) will be president, an ondo man (sons of warriors) as VP, Kogi man (sons of spiritual warfare) as senate leader. These ruling persons will make it a living hell for Biafra to have any collaboration with them so they will seek US and UN to help create a proper Biafra nation as they annexed in a hurry without proper planning.
12. Despite Biafra rich in vegetation, having some of the most brilliant minds, having some of the most strongest will, they will fail as a nation on its own due to these.
13. They have no unity, the prosperity of Anambra will cause an uneven economy that will lead to many constitutional and politic crisis, the poorest state like ebonyi will have the military and police.
These uneasiness, uncertainty and challenge will not be different from what they had when in Nigeria but it would be worse as they are landlock and Nigeria has closed its borders around them to victimise them.
It would never be a great nation in the truest word but it will be a nation.