Ihedioha should prepare to go to jail – Father Mbaka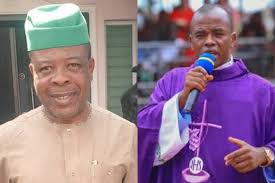 The Reverend father Mbaka who prophesied saying then Governor ihedioha would be removed from his office, and his Rival Hope Uzodinma would take over.
The Reverend father who said he was told by the holy spirit that Hope Uzodinma was going to win the supreme Court case, despite Ihedioma winning the tribunal and appeal court case.
In which the prophesy actually came to pass Hope Uzodinma won the case, that was a shock to all Nigerians, and that was what the Reverend said it was going to be.
The Question is could we say this was actually a prophesy or A conspiracy???
The Former Governor who lost the supreme Court case has refused to give in on the supreme Court judgement saying he is going to re-appeal that with evidence and proof justice was not served.
The Reverend father seeing Ihedioha's decision to appeal has come out saying: You are not meant to be at that position, he was choosen by the holy Spirit, forcing it you would end up in Jail.