Breaking: Lucifer arrested in Abia state (photos)
The founder of Assemblies of Light Bearer Greater Church of Lucifer popularly known as Church of Satan in Ohafia, Abia State has been arrested.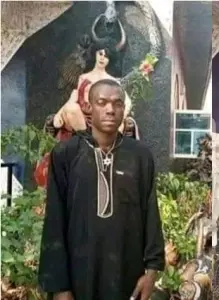 Ifekwe Udo, popularly called Lucifer was arrested on Tuesday, July 7, 2020 for allegedly violating the COVID-19 lockdown rules, child trafficking and terrorizing the community.
Udo rose to prominence over the past decade through empowerment programmes in his community where he provided motorcycles on hire purchase to unemployed youths. It is also reported that he opened a brothel in the community.
Following his arrest, youths in the community demolished statues in his church